Article originally posted on www.erieinsurance.com

(opens in new tab)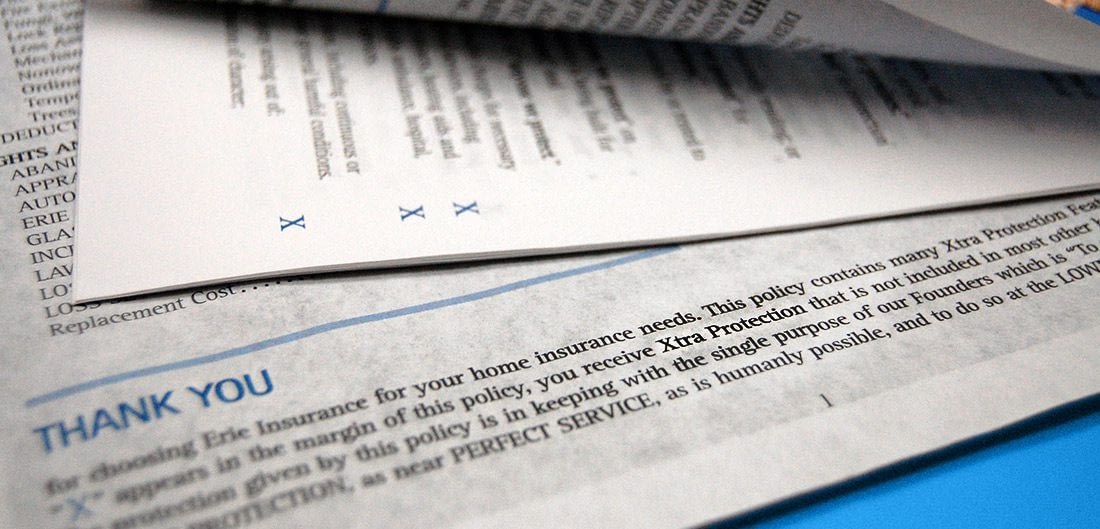 The next time you look over your ERIE auto insurance policy, look for the "Xs" throughout the margins. These are all the "Xtra Protection Features" that are automatically included with your ERIE auto policy.
6 ERIE Auto Policy "Xtras" You Might Not Know You Have
Here are just a few of the things you're covered for (and always have been):
Road Trip: Whether you're headed across the state with the family or on a vacation across the country, ERIE has your back if something happens to your car and you find yourself stranded after a covered loss. If you have purchased comprehensive or collision coverage applicable to your loss, ERIE offers a reimbursement of up to $75 per passenger in the vehicle for travel expenses if you don't reach your destination and aren't close to home. This reimbursement limit will be increased to $150 if you add the ERIE Auto Plus endorsement to your policy.
Paw Protection: ERIE cares about you—and your dogs and cats. If your pet is hurt in a covered accident while riding in your car, we'll help cover the vet treatment costs by reimbursing you up to $500 per pet (up to two pets) for a maximum reimbursement limit of $1,000). That's great news for Fido and Fluffy. Learn more about how to keep your furry loved ones safe in cars.
Locked Out: Darn it! We all know the feeling you get the minute you see your car keys on the front seat and the car is locked. If you find yourself in this situation and purchased comprehensive coverage, ERIE will reimburse you up to $75 for the cost of locksmith services on your insured car. If you add the ERIE Auto Plus® endorsement to your policy, the reimbursement limit increases to $125.
That New Car Smell: If you're enjoying your new ride so much that you accidentally forgot to let your agent know about it, we get it. If you don't have comprehensive or collision coverage, just make sure to let us know within seven days of the purchase so that you have the proper coverage. (Learn more about how coverage works when buying a new car.)
Someone Crashes Your Shopping Spree: Imagine you've just purchased a TV or finished a round of golf and then… BAM! Someone rear-ends your car, smashing everything in the trunk. Don't worry. If you purchased collision coverage on your vehicle, ERIE gives you up to $350 toward your personal items not covered by other insurance. (And if you add the ERIE Auto Plus endorsement to your policy, you can increase this limit to $500.)1
Glass Repair: A single pebble flying through the air can cause more harm than you'd expect. From chips, nicks and cracks, it can be dangerous to drive around with a damaged windshield. If you've purchased comprehensive coverage, ERIE will waive the deductible for windshield repairs. (Add Full Window Glass to your coverage and ERIE will waive the deductible for both windshield repairs and replacements*.) Learn more about how to handle a windshield repair.
Get Advice from a Professional You Trust
There's just so much to know about insurance, but fortunately, you don't have to know it all. That's why you have your very own local ERIE agent who can walk you through the complicated stuff.
Has it been a while since you checked in? To find your agent's information, check your auto insurance ID card or log into your ERIE online account. New to ERIE? Find a local agent near you.
1 With the ERIE Auto Plus endorsement, the limit increases to $500. In New York, the collision deductible cannot be reduced below $100 and the comprehensive deductible cannot be reduced below $50.Your ERIE agent can offer you practical guidance and answer questions you may have before you buy.
*In Kentucky, glass is considered safety equipment; under comprehensive coverage, no deductible applies for repair or replacement if only safety equipment is damaged (even if the loss is caused by collision). Full Window Glass is not available in North Carolina.

A better insurance experience starts with ERIE.
Haven't heard of us? Erie Insurance started with humble beginnings in 1925 with a mission to emphasize customer service above all else. Though we've grown to reach the Fortune 500 list, we still haven't lost the human touch.
Contact May's Insurance Agency today to experience the ERIE difference for yourself.
Filed Under: Car Sense
|
Tagged With: Auto Insurance, Car Insurance, Personal Insurance