Article originally posted on www.erieinsurance.com

(opens in new tab)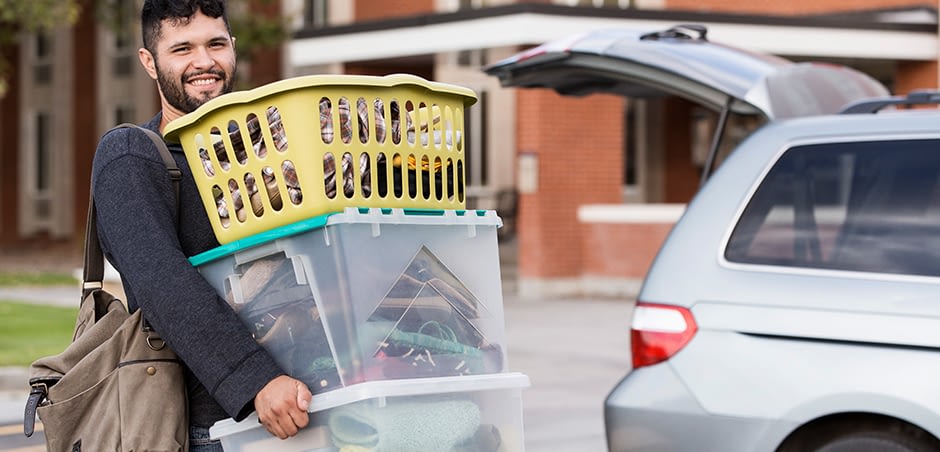 As the mom of a son in college 9 hours away, there are a lot of logistics around getting your kid packed up and off to college safely.
I am obsessed with checklists on my phone. I keep lists of groceries, Netflix shows I need to watch and everything else under the sun. So, of course, I use my handy checklist for what to pack. But what else should I consider before he leaves?
Cut the Clutter
Work with your young adult to clean their closets every year. Make piles for things they want to take with them, but also what can be sold online, what can be trashed, what can be donated and what can be left at home. Take only what you need. It'll make move-in day much easier. I wish I would've done this the first year, but instead he ended up with about 65 black Nike socks of various lengths and styles!
Shop Later
Rather than bringing all the toiletries, snacks and school supplies with you, consider making a big shopping trip once you get to school so there's less you have to pack. (Make your checklist ahead of time!) And remember it's easy to order things online and have them shipped directly to school. Plus, if there's less stuff to squeeze in the car, you won't obstruct your view on the way there. And if you do have a long college trek like I do, make sure you are driving safe and not driving while distracted.
Talk Safety With Your Student
Remind them to always lock the doors. Kids can be carefree—and trusting—but theft is a real thing in colleges. In 2019, there were over 9,000 burglaries and 3,100 auto thefts reported on U.S. campuses.
Does your student have expensive electronic equipment, a bike or scooter? If so, it's good to know that your student's personal possessions are typically protected under a parent's homeowners policy. At Erie Insurance, full-time students under the age of 24 are automatically covered under their parents' policy. However, it's important to keep in mind that most insurers limit how much they will pay for theft of any one item (the limit is $3,000 at ERIE).1 If a prized possession is worth more, you may want to add additional coverage.
If your student is living off campus in an apartment, you may want to consider purchasing a separate renters insurance policy. Talk to an insurance professional like an Erie Insurance agent to learn more about your options.
Get Your Auto Insurance Situated
Is your child taking a car to school? Or are they leaving it at home? If it's the latter, reach out to your insurance agent—you can probably save some money. Erie Insurance has a college student auto discount that applies to young, unmarried, full-time college students who spend most of the year away from home without the use of a vehicle.
And if the car IS going to college, review coverage with your insurance agent.
You may want to remind your young driver that auto insurance follows the car, not the driver. But there are two common exceptions. The first is when the damage and/or injuries exceed the available limits on your policy. In this instance, it's possible that the friend's insurance would kick in to cover the outstanding balance. Another exception can occur when someone drives your car without your permission. Bottom line: don't let just anyone borrow your car.
A Great Combination
If you have an auto and renters policy from ERIE, you may be eligible for a multi-policy discount.2 Talk with us today to get a quote and learn more about having the right coverage that fits your life.
1Theft limit applies to certain property classes. Talk to your agent for more coverage information.
2Discounts subject to eligibility and applicable rates and rules. Not available in all states.
ERIE® insurance products and services are provided by one or more of the following insurers: Erie Insurance Exchange, Erie Insurance Company, Erie Insurance Property & Casualty Company, Flagship City Insurance Company and Erie Family Life Insurance Company (home offices: Erie, Pennsylvania) or Erie Insurance Company of New York (home office: Rochester, New York). The companies within the Erie Insurance Group are not licensed to operate in all states. Refer to the company licensure and states of operation information.
The insurance products and rates, if applicable, described in this blog are in effect as of July 2022 and may be changed at any time.
Insurance products are subject to terms, conditions and exclusions not described in this blog. The policy contains the specific details of the coverages, terms, conditions and exclusions.
The insurance products and services described in this blog are not offered in all states. ERIE life insurance and annuity products are not available in New York. ERIE Medicare supplement products are not available in the District of Columbia or New York. ERIE long term care products are not available in the District of Columbia and New York.
Eligibility will be determined at the time of application based upon applicable underwriting guidelines and rules in effect at that time.
Your ERIE agent can offer you practical guidance and answer questions you may have before you buy.


A better insurance experience starts with ERIE.
Haven't heard of us? Erie Insurance started with humble beginnings in 1925 with a mission to emphasize customer service above all else. Though we've grown to reach the Fortune 500 list, we still haven't lost the human touch.
Contact May's Insurance Agency today to experience the ERIE difference for yourself.
Filed Under: Home Sense
|
Tagged With: Homeowners Insurance, Personal Insurance