Article originally posted on www.erieinsurance.com

(opens in new tab)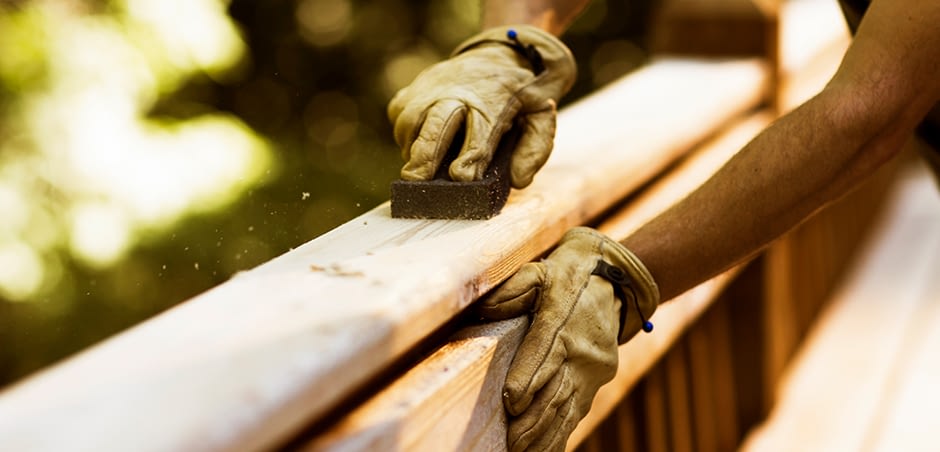 Is Adding a Deck a Good Investment?
Remodeling magazine reported that adding a wood deck can up your home's resale value by more than $10,000. Decks built of composite material add more than $13,000. So chances are, you're going to significantly recoup the value of this investment.
Test your knowledge with our quiz: How Much Value Can These DIY Projects Add To Your House?
What is the Best Material to Build a Deck?
It all depends on your personal preference – and, of course, your budget.
The most common decking materials include:
Wood: From pressure-treated (the most economical) to tropical hardwoods to redwood and cedar (the priciest), you have a variety of options to choose from. Bear in mind, a wood deck will eventually show some wear and tear. And it comes with a bit of maintenance. You should clean it thoroughly every year and re-stain it every two to three years. Lumber prices have skyrocketed during the COVID-19 pandemic, so if you're looking at building this summer, you might want to consider other options to save some cash.
Composite: Looks like wood. Wears like plastic. With an array of colors and styles to choose from, composite materials offer a durable solution to deck builders. It comes with an easier maintenance schedule, too. All you need is a little scrubbing to keep mildew at bay. However, this convenience typically comes at a higher price point.
Plastic: While composite is made of a mixture of plastic and wood materials, there also is a range of plastic and PVC options on the market. These will last for the long haul ‒ and then some ‒ and require fairly minimal maintenance. Keep in mind that these materials are pricier than composite.
Aluminum: Light, strong, and able to withstand the elements, aluminum decks are among the most durable on the market… and the most expensive.
Deck Layout Ideas
Search "backyard deck ideas" on Google or Pinterest, and you'll be flooded with thousands of images of designs ranging from the simple rectangle to elaborate, multi-level designs complete with built-in benches, firepits, outdoor kitchens, pergolas, lighting, and more.
So do your homework. Figure out where you want your deck to be built, and identify the type of design that fits the overall look and feel you want to achieve.
How Much Can a New Deck Cost?
When it comes to cost, several variables come into play: material, size, any extras like lighting or a pergola, and whether you plan on building the deck yourself or choose to hire a contractor.
According to Remodeling magazine, the average cost to build a wood deck in 2020 was $14,360. Composite decks came in at $19,856 on average.
Some big-box hardware stores and deck material manufacturers offer online tools that help you design your perfect deck and estimate costs. A local professional deck builder or contractor specializing in deck construction also can help. If you've got the skills to do the heavy lifting yourself, the internet is teeming with DIY plans.
Should I Hire a Contractor to Build a Deck?
HomeAdvisor offers the following considerations on whether or not you should roll up your DIY sleeves or leave it to the pros and hire a contractor.
Cost: Given that contractors typically mark up materials (for perfectly valid business reasons), you may end up paying only a third of that materials cost if you purchase and build the deck yourself. Sounds good. But do you have the tools and additional materials to get the job done ‒ and to do it right? If you don't, that's an additional investment you'll need to make.
Time: As HomeAdvisor explains, "a professional deck builder will do a better, faster job than you can." It will take longer to build a deck yourself, because, let's face it, life gets in the way sometimes. If you'd rather have the deck finished quickly, a local deck builder is probably your best bet.
Quality: There's absolutely nothing wrong with learning a new skill (or flexing your construction know-how). Taking on a project like this can be a fun thing to tackle. But professional deck builders do this day in and day out. They're knowledgeable and efficient in what they do, and there's a craftsmanship they bring to their projects. They also should be up to date on any building codes that need to be followed when building your deck (more on that later).
Want more tips? Read our related article on how to hire a contractor.
What Do I Need to Do Before I Break Ground on My Deck?
Before you purchase any materials, hire a contractor or think about digging a hole, make sure you do the following:
Get the appropriate permits. Depending on where you live, the type of deck you want to add on, and its overall size, you may need a building permit. Contact your local zoning department or office to find out what's required for your project. Keep in mind that regulations can vary across the board, and you may even need to submit your design for approval. You also should gain information on local building codes to ensure your structure meets all the necessary requirements. If you don't, it could become an issue down the road if you decide to sell your home. (Read our related story: How Safe is Your Deck?)
Get approval from your HOA (if you have one). If you live in an area with a homeowner association (HOA), these boards typically have to approve certain updates, repairs, or remodels that you want to make to your home. Failing to do so could result in fines or your HOA making you redo the project to be within its standards. Check out your HOA documents (also known as CC&Rs ‒ covenants, conditions & restrictions) to see if your project needs approval. Then, go through the proper process and channels to make it happen.
Call 811. Did you know some utility lines are buried just inches underground? To avoid a costly and dangerous situation, call 811 (or your state-specific hotline) before you dig. At your request, the service will work directly with your utility companies to mark or flag the locations of any buried utility lines on your property. Reach out in advance of your construction date so that you (or your contractor) can either work around these lines or determine if you need to move the location of your deck. Read our related article on why it's essential to call 811 before your digging project.
Give your insurance agent a heads up. When you're tackling a major home improvement project, tell your insurance agent. Major improvements that add value to your home often mean you need a higher limit on your homeowners insurance. Your agent can guide you through any updates you need to make to your coverage or policy limits.
Upgrade Your Homeowners Insurance with Guaranteed Replacement Cost
Your home is often the biggest investment you'll make in your lifetime. That's why it matters to have the right homeowners insurance.
If you ever had to file an insurance claim, do you know how much you'd have to pay to rebuild your home (and that brand-new deck) from scratch? Often, the answer is more than what you paid for it. A lot of things can affect the cost to rebuild, such as the price (and availability) of materials and labor.
Good news: You can take the guesswork out with a simple add-on to your homeowners policy. Ask your ERIE agent for a quote that includes Guaranteed Replacement Cost*. With this coverage, your insurance policy will pay for the full cost of rebuilding your house back to its previous size and specifications, without requiring you to shell out additional cash.
Find a local ERIE agent to ask for a quote today. Or learn more about homeowners insurance from ERIE and request a free quote online.
*Guaranteed Replacement Cost applies to dwelling and requires home improvements over $5,000 to be reported within 90 days – not available with all policies and in all states. Coverage of costs to comply with laws or ordinances is subject to limits. Depreciation will be deducted until repair or replacement is made. Talk to an ERIE agent for more information.
Warmer weather. Longer days. An escape from the cabin fever brought on by a long winter and an even longer lockdown (thanks for that, COVID-19).
It's finally outdoor season. And if you're planning on sticking a little closer to home this year, then it may be the perfect time to spruce up your outdoor space and make your backyard a place where you can relax and your kids will actually want to hang out.
While you could update your landscaping or try out those stock tank pools everyone is crazy about right now, you may want to consider investing in something that will not only boost your curb appeal, but also the overall value of your home ‒ a deck.
With a new deck, you can extend your living area, entertain, share a meal, unwind while you watch your kids play in the yard, or simply sunbathe or enjoy a summer evening.
Here's what you need to know if you're thinking about adding one.

A better insurance experience starts with ERIE.
Haven't heard of us? Erie Insurance started with humble beginnings in 1925 with a mission to emphasize customer service above all else. Though we've grown to reach the Fortune 500 list, we still haven't lost the human touch.
Contact May's Insurance Agency today to experience the ERIE difference for yourself.
Filed Under: Home Sense