Article originally posted on www.erieinsurance.com

(opens in new tab)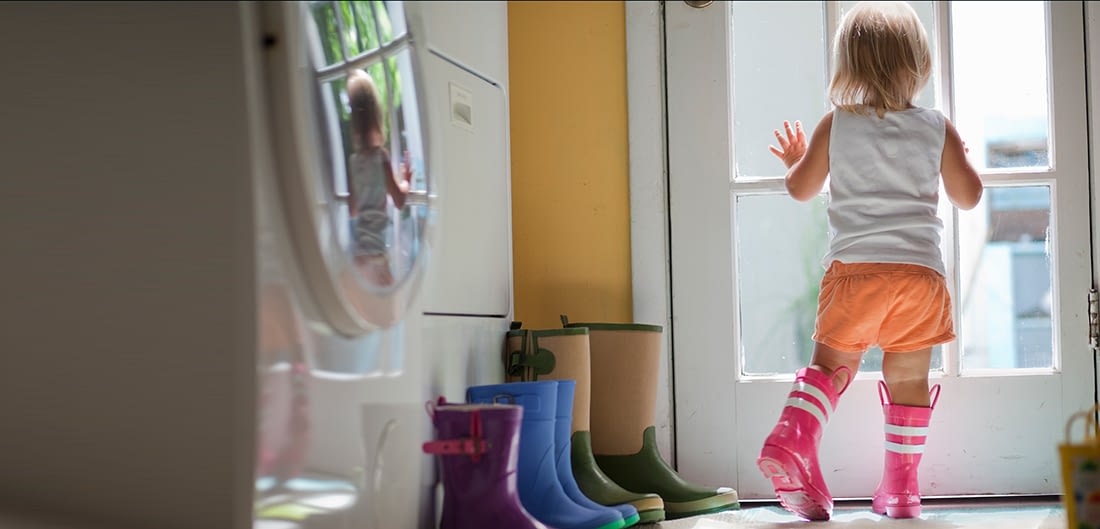 The mudroom is one place in your home where you can excuse a bit of a mess. After all, the word "mud" is in the name, right?
It's true that there's nothing glamorous about corralling your family's shoes, coats and backpacks. But just because the mudroom serves as a transition between your home and the messiness of the outdoors doesn't mean it has to be cluttered.
Designed for living: Learn more about homeowners insurance from ERIE
With the right perspective, you can turn this hard-working room into a space that's not just functional – but stylish, too.
So how do you bring some order to a room that's designed for chaos? We recommend giving these ideas a try:
Install lockers or cubbies. These storage solutions aren't just for classrooms. Assign a space to each member of your family and install some coat hooks to maximize your storage space. Be sure to keep space open low for shoes and high for coats, backpacks or sporting equipment. If you're feeling extra brave, let your kids decorate their own locker or cubby to their liking or style.
Use a bookshelf. If you don't have room for lockers and cubbies, or they don't seem like the right fit for your space, a bookshelf might be a good alternative for stylish storage. Adjust the space between the shelves to provide the right amount of room for the shoes, boots or other items you want to store. And consider installing hooks to create a spot to hang up coats, hats or bags.
Place a tray for boots. Want to keep the mud out of your mudroom? Boot trays are a simple way to limit the amount of dirt, mud and water that gets onto your tile floor or carpet. These trays are an inexpensive purchase at most home stores, but you can always use an old baking sheet if you're in a pinch. To keep your space looking fresh, be sure to give the tray a quick wash with the hose whenever it's looking dirty.
Hang a wall clock. When you're running late and need to check the time, it always helps to have a clock nearby. This is especially true when your hands are full from wrangling children or carrying bags. As the primary entryway for your home, a mudroom wall space is a great place for a clock. And it's an easy way to add a focal point or a pop of color to the room.
Mount a message board. A whiteboard, chalkboard or corkboard can be a great way to share messages with your kids or other family members as they're coming and going. You can post important information like schedules, homework assignments, chores, grocery lists and other to-dos. Encourage everyone to use it as a central location for communication in your home.
Add a bench. When you're ready to take your shoes off after a long day at work, it's nice to have a place to sit down. And if you have young children, a bench in your mudroom is a great place for them to get ready before walking out the door. It's also a good way to avoid tracking mud, water or snow further into your home.
Choose colors that flow. Just because your mudroom is a utility-focused space doesn't mean it has to feel like one. Choose a color that will create a natural flow to the space it's connected to, whether it's your kitchen or living room. And keep in mind that bold colors and patterns can give this small room a big presence. Just be sure to choose paints and materials that are easy to clean.
Like your mudroom, we know life can be messy. Your Erie Insurance agent understands that. So when it comes to protecting what matters most, your agent will be there to simplify things, answer questions and help you get the insurance you need. Contact your local agent today to discover what the ERIE difference can do for you.

A better insurance experience starts with ERIE.
Haven't heard of us? Erie Insurance started with humble beginnings in 1925 with a mission to emphasize customer service above all else. Though we've grown to reach the Fortune 500 list, we still haven't lost the human touch.
Contact May's Insurance Agency today to experience the ERIE difference for yourself.
Filed Under: Home Sense