Article originally posted on www.erieinsurance.com

(opens in new tab)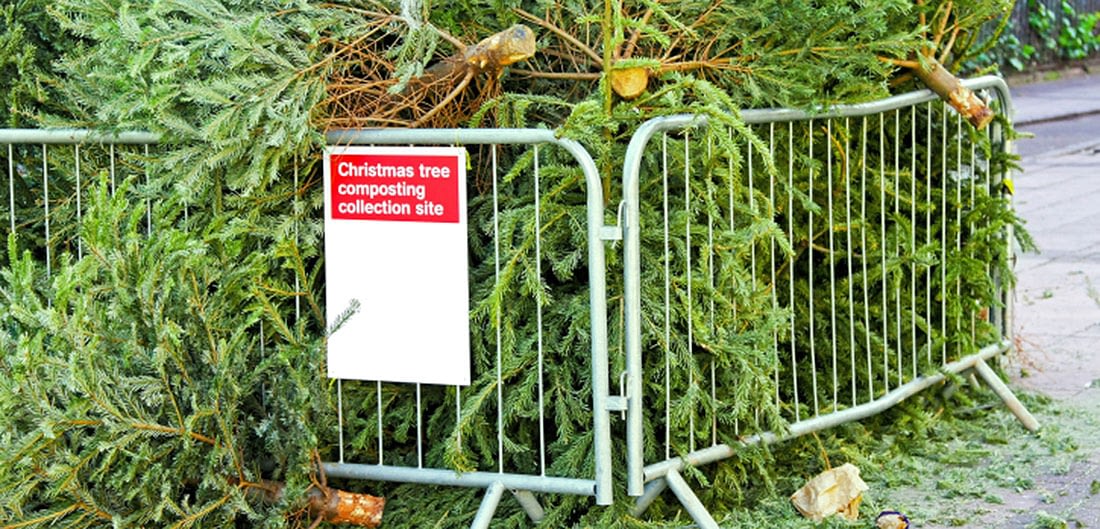 There's nothing like coming home to the smell of fresh pine during the holidays. If you enjoyed a real Christmas tree all holiday season, you might now be wondering how to recycle your Christmas tree.
If you're like the majority of people, you'll simply dispose of your tree after the holidays. Most cities have special curbside pickup schedules, so make sure to check out what your city offers. Another option is to see if your area has a recycling center accepting Christmas trees. Some Boy Scout troops even pick up trees for a small fee.
Other Ways to Recycle Your Christmas Tree
Trashing your tree isn't the only option. You may not realize it, but your tree can keep on giving well past the holiday season. Here are some ways you can recycle your Christmas tree into something new and useful.
Make mulch. Remove the branches and use a chipper to cut them down to size. Voila—you now have mulch for your garden.
Insulate your garden. Cut off the branches and lay them over your garden bed. The branches provide protection for your plants and help maintain a steady temperature during the cold months.
Turn it into a fish feeder. Have a pond nearby? If so, sunken Christmas trees serve as a refuge and a feeding area for fish.
Fashion it into a no–cost bird feeder. Simply laying the tree in your backyard will create a safe haven for birds. To attract feathery friends, place orange slices or string popcorn around the tree.
Give it to goats as a snack. Pine is a tasty treat for goats and (an added bonus) it's good for their health too. Consider donating your tree to a goat farm or sanctuary near you. Just make sure your tree is bare and pesticide free.
Help create safe paths or erosion barriers. Some communities use shredded trees as a natural liner for hiking paths. Others place Christmas trees around beaches to help prevent sand and soil erosion. See if any organizations in your community could recycle your Christmas tree for a good purpose.
Replant it. Did you opt for a rooted tree? If so, you can simply replant the tree and enjoy it for years to come.
Create some crafts. In search of new coasters or simple air fresheners? If so, simply cut slabs from the trunk, sand them down and apply a coat of polyurethane to keep surfaces sap-free. For easy air fresheners, use green needles in paper bags or sachets.
Use it for outdoor firewood. Christmas trees do not make for safe indoor firewood, but you can throw branches in an outdoor fire pit. They're quick to ignite (and burn hot!), so use them to get a fire started.
When Should I Recycle My Tree?
According to the National Christmas Tree Association, it depends on your tree's freshness. Typically, shortly after Christmas or whenever the tree gets very dry, you should remove it from your home. Dry trees are a fire hazard that can quickly cause serious damage.
Check out our Christmas tree fire video below:
Coverage That Protects During the Holidays and Beyond
You deserve home insurance coverage that gives you peace of mind, no matter the time of year. If you haven't done an annual review recently, the new year is a great time to do so with us.
ERIE® insurance products and services are provided by one or more of the following insurers: Erie Insurance Exchange, Erie Insurance Company, Erie Insurance Property & Casualty Company, Flagship City Insurance Company and Erie Family Life Insurance Company (home offices: Erie, Pennsylvania) or Erie Insurance Company of New York (home office: Rochester, New York). The companies within the Erie Insurance Group are not licensed to operate in all states. Refer to the company licensure and states of operation information.
The insurance products and rates, if applicable, described in this blog are in effect as of July 2022 and may be changed at any time.
Insurance products are subject to terms, conditions and exclusions not described in this blog. The policy contains the specific details of the coverages, terms, conditions and exclusions.
The insurance products and services described in this blog are not offered in all states. ERIE life insurance and annuity products are not available in New York. ERIE Medicare supplement products are not available in the District of Columbia or New York. ERIE long term care products are not available in the District of Columbia and New York.
Eligibility will be determined at the time of application based upon applicable underwriting guidelines and rules in effect at that time.
We can offer you practical guidance and answer questions you may have before you buy.


A better insurance experience starts with ERIE.
Haven't heard of us? Erie Insurance started with humble beginnings in 1925 with a mission to emphasize customer service above all else. Though we've grown to reach the Fortune 500 list, we still haven't lost the human touch.
Contact May's Insurance Agency today to experience the ERIE difference for yourself.
Filed Under: Home Sense
|
Tagged With: Homeowners Insurance