Article originally posted on www.erieinsurance.com

(opens in new tab)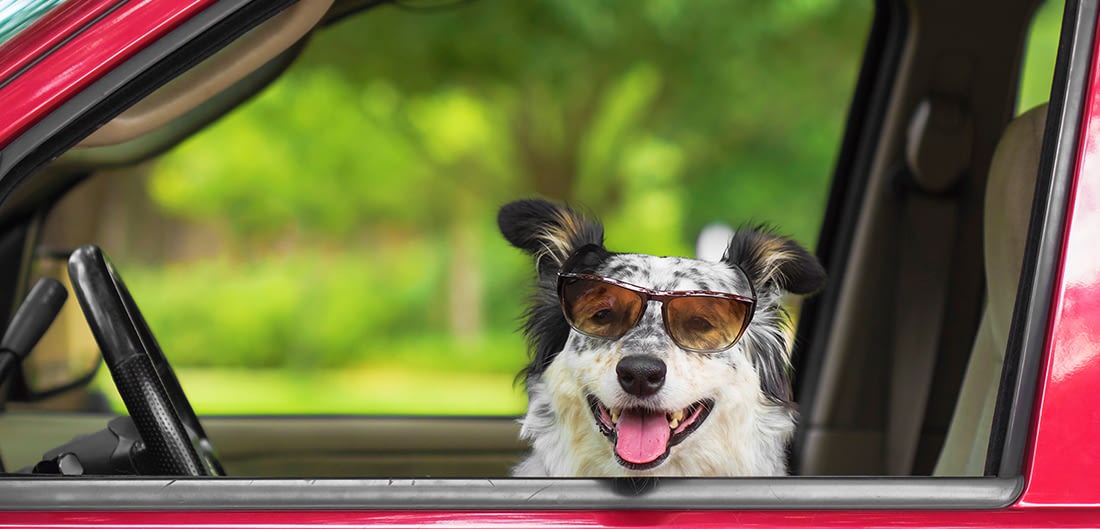 To a dog, there's nothing more exciting than going for a ride, having the window rolled down and feeling the wind in their ears. However, when the car stops and owners run a "quick" errand, what can happen to your pet is dangerous. According to the American Society for the Prevention of Cruelty to Animals (ASPCA), hundreds of pets die in hot cars each year. Time passes faster than owners realize, and car temperatures can climb to well over 115 degrees, putting your pet's life in danger.
How Fast Does a Car's Temperature Rise? Here are Some Examples:
When it's 70 degrees outside, your car's temperature inside gets up to 89 degrees after just 10 minutes and up to 104 degrees after a half hour. If you're traveling with your pet on an 85-degree day, your car's temperature is 104 degrees after 10 minutes and nearly 120 degrees after a half hour. Pets cool themselves by panting and through their skin, but they have a hard time cooling down in hot weather. In a hot car, heat stroke can happen in just a few minutes.
What to Do if You See a Pet in a Hot Car
Take caution when you see a pet in a hot car. If you identify a pet is in distress in a hot vehicle, the best thing to do is contact local law enforcement. Some states have laws against leaving a pet in a hot car, however, it varies. Obtain guidance from law enforcement before taking action and breaking a car window on your own. Once you call law enforcement, stay by the vehicle and keep an eye on the pet until help arrives.
How to Treat a Pet with Heat Stroke
First, it's important to know the signs of a heat stroke:
Warning signs: panting, drooling and lethargy.
Advanced stage: grey or blue gums, limp body posture with heavy breathing and the pet may be in shock.
Cooling the Pet Down
Get your pet to an air-conditioned environment.
Work to cool the pet down by wetting the ears and pads of the feet with cool water (do not use frigid water, use cool water).
Place cool, wet towels over the shoulder/neck, under the front legs and in the groin area.
Refresh the water frequently.
If the pet will drink, provide cool water or small ice chips.
What to Do if the Pet is Unresponsive
Call an emergency veterinarian immediately and tell them you're on your way.
If the gums are gray/blue, they need immediate treatment and should be rushed to the nearest emergency treatment center.
They will help cool the dog and administer subcutaneous fluids.
Additional Tips for Pet Owners in the Summer
Short-nosed, long-haired and young dogs are more at risk and prone to heat stroke.
On hot days, limit exercising your pet to early morning or evening hours.
Use the seven-second rule to prevent burning paws on hot ground. Press the back of your hand against the asphalt for seven seconds – if it's too hot for you, it's too hot for them.
Pets with light-colored noses or light-colored fur on their ears are vulnerable to sunburn and skin cancer. It's safe to use sunscreen on their noses and ear tips.
If you're going out during the summer (especially on a hot day), it's best to keep your pet at home in a cool, air-conditioned environment. Your pet will thank you.
ERIE® insurance products and services are provided by one or more of the following insurers: Erie Insurance Exchange, Erie Insurance Company, Erie Insurance Property & Casualty Company, Flagship City Insurance Company and Erie Family Life Insurance Company (home offices: Erie, Pennsylvania) or Erie Insurance Company of New York (home office: Rochester, New York). The companies within the Erie Insurance Group are not licensed to operate in all states. Refer to the company licensure and states of operation information.
The insurance products and rates, if applicable, described in this blog are in effect as of July 2022 and may be changed at any time.
Insurance products are subject to terms, conditions and exclusions not described in this blog. The policy contains the specific details of the coverages, terms, conditions and exclusions.
The insurance products and services described in this blog are not offered in all states. ERIE life insurance and annuity products are not available in New York. ERIE Medicare supplement products are not available in the District of Columbia or New York. ERIE long term care products are not available in the District of Columbia and New York.
Eligibility will be determined at the time of application based upon applicable underwriting guidelines and rules in effect at that time.
Your ERIE agent can offer you practical guidance and answer questions you may have before you buy.


A better insurance experience starts with ERIE.
Haven't heard of us? Erie Insurance started with humble beginnings in 1925 with a mission to emphasize customer service above all else. Though we've grown to reach the Fortune 500 list, we still haven't lost the human touch.
Contact May's Insurance Agency today to experience the ERIE difference for yourself.
Filed Under: Car Sense
|
Tagged With: Auto Insurance, Personal Insurance